I'm sure you've heard the popular saying: "consistency is key"… Well, it's also true for Pilates. Dive into this article to learn about the benefits of Pilates, why gentle does NOT mean easy, how my client Anne switched to Pilates from high impact workouts (that were damaging her knees), and check out my very own before and after. I'll end with my top tips for consistent practise!
Ready? Let's start with the benefits !
1. The benefits of Pilates
We all have asymmetries and carry imbalances in our bodies, which over time may lead to pathologies or injuries. Pilates helps correct these imbalances and avoid future injuries, by promoting a stronger and more aligned body.
The benefits of Pilates are numerous:
Increased flexibility
Deep muscular reinforcement
Strength development
Increased mobility
Stress reduction
Better balance
More vitality
You can read about the 6 founding principles of Pilates, and all the benefits in this article.
2. Gentle DOES NOT mean easy
The Pilates method is progressive, and that's why it's often referred to as a gentle workout. But let me tell you: gentle doesn't mean easy! As you progress with the Pilates method the exercises become more advanced and difficult, and the benefits also increase.
Result: the more you practice, the more benefits you'll see!
Remember that it takes time to really get to know your body and that the more you practice, the more you'll deepen your body knowledge.
Consider Pilates a long-term sports routine, that is both preventive and corrective.
3. Client Testimonial: Anne, interpreter, 20 years of authentic Pilates practice
To illustrate how a long term and regular Pilates practice can transform your body, I spoke with Anne, an interpreter who has practised Pilates for the past 20 years.
How did you start practising Pilates?
"In the 2000s, when high impact fitness classes were all the rage, I started to feel pain in my knees. That's when I met a Pilates teacher who came to my workplace to teach a group class once a week. That's how I started Pilates. Eventually, the group got smaller, so I decided to go to the studio and practice Pilates twice a week. I took group mat classes as well as private classes on Pilates equipment."

What physical effects did you notice?
"Pilates improved my posture and gave me very precise knowledge of my body. This method is endless because when you change a small detail, you see a real difference in the way you feel."
What effects, other than physical, have you noticed?
"A few years ago I went through a difficult period medically. Pilates helped me to get through it, regain control of my body and boost my confidence.
When you come to Pilates, you don't think about anything else but yourself, so any stress completely disappears. Pilates has become a ritual for me that brings me real harmony on both a physical and mental level.
On the other hand, I have to admit that practising Pilates requires intellectual availability, as it's a method that requires great concentration."
4. My own before and after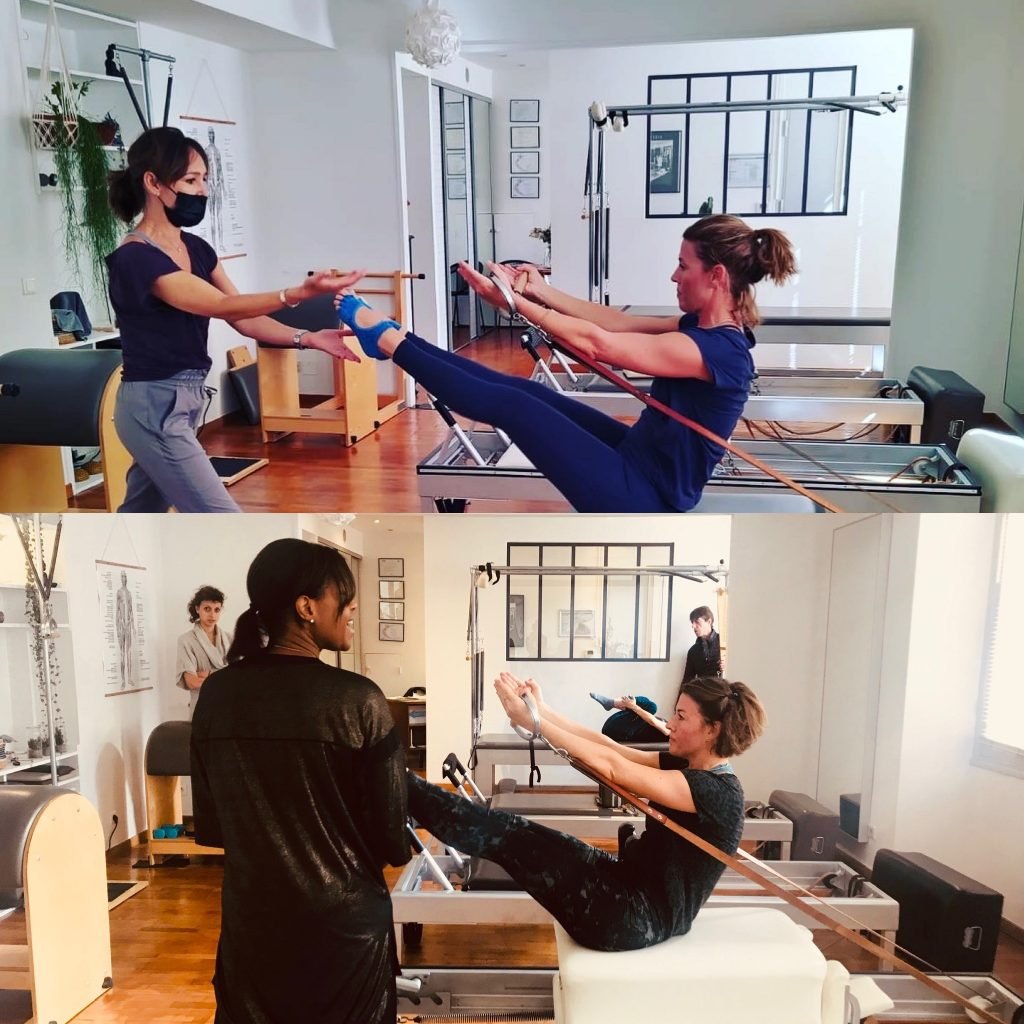 Here is one of the few before and after pictures of me, two years apart.
The exercise I'm doing is called the Teaser on a Reformer. It consists of moving your straight arms up and down while sitting in an upright "V" position. Each time you raise your arms up, you stretch a spring positioned under the Reformer.
You need to have enough strength and control in the core of your body to maintain your balance in the correct position (without arching the back) and limit tension in the upper body (shoulders, neck).
Visually, you can see that in the top photo, my back is straighter and my shoulders are lower than in the bottom (older) photo.
My regular and committed Pilates practice has clearly strengthened my body enough and I am now able to do this exercise in a more harmonious way.
5.My tips for achieving results
To achieve similar results, I recommend practising Pilates at least twice a week.
As Joseph Pilates famously said :
"You will feel better in ten sessions, look better in twenty sessions, and have a completely new body in thirty sessions."
But you'll also see some benefits if you practise once a week.
Some of the first benefits you'll see include:
Better posture
You'll feel more flexible
You'll feel stronger and more in tune with your body
You'll feel an immediate energy boost after your first session
I'm going to leave you with this quote by the WHO "health is state of complete physical, mental and social well-being and not merely the absence of disease or infirmity."
So if your health is important to you, you know what to do! Move – Move – Move! Regular practice and movement are key!
In my studio in Beaulieu-sur-Mer, you can choose between private or group classes, mat or equipment classes. Whatever class you choose, stick with it and be regular in your practice, and you'll get long-lasting and deep results!
Check out my offer to help you practise Pilates on the regular.
Yours in Pilates,
Kelly